'Devastating' California Oil Spill Under Investigation as Amplify Energy Faces Scrutiny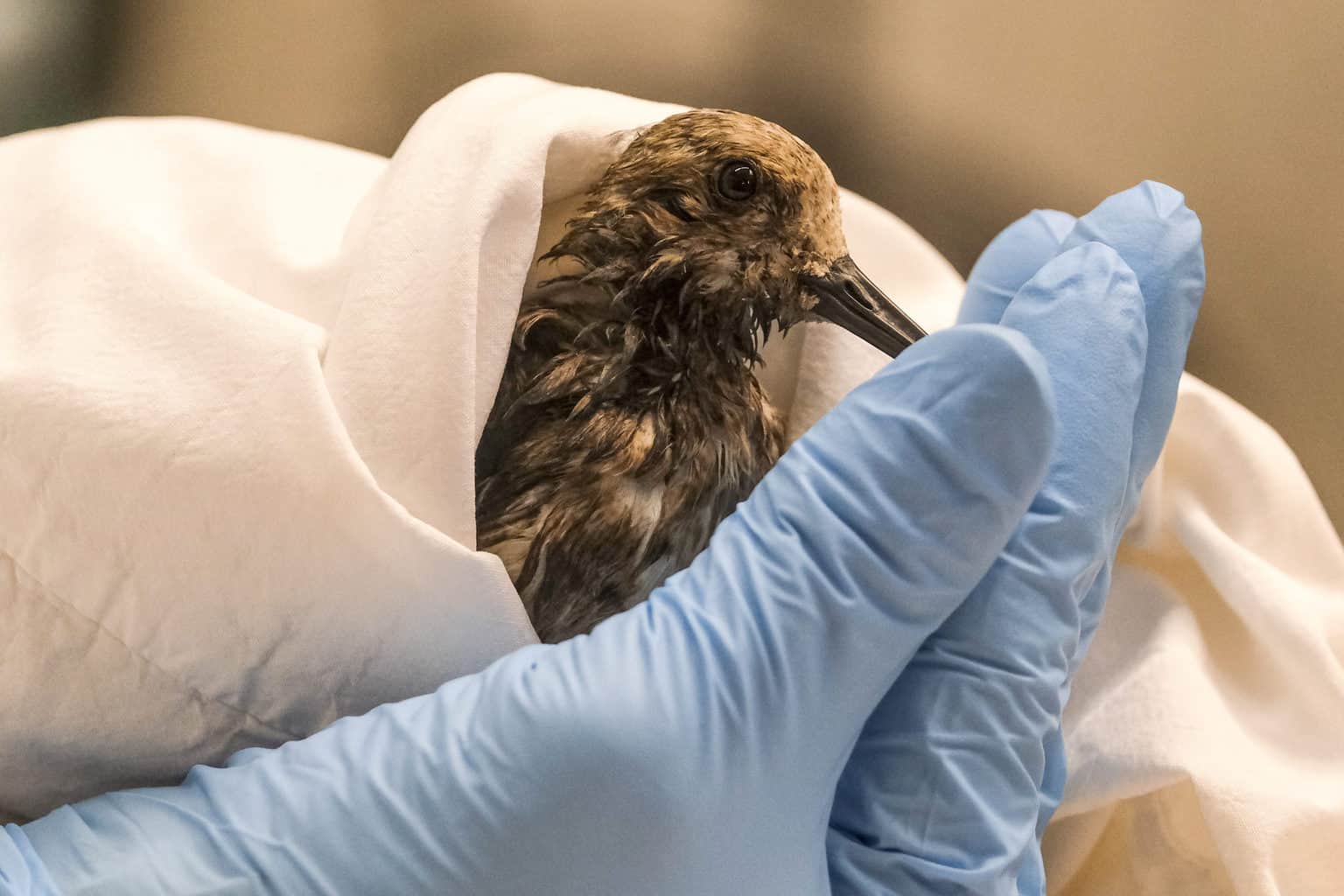 Dead fish and birds have washed ashore after a 17.5-mile pipeline owned by Amplify Energy Corp. leaked an estimated 126,000 gallons of crude oil into the Pacific Ocean off the coast of Huntington Beach in Orange County, California.
California beaches along the Orange County stretch have been shut down following the major oil spill on Sunday that left miles of an oil slick.
What We Know About the Investigation of The Oil Spill
The United States Coast Guard is investigating the spill in an ongoing clean-up effort. At least fourteen boats are involved in oil recovery operations, according to a statement released on Sunday afternoon. 5,360 feet of boom was deployed to contain and slow the oil.
Kim Carr, the mayor of Huntington Beach, called the spill an "environmental catastrophe" in a news conference on Sunday afternoon, saying that it was "one of the most devastating situations our community has dealt with in decades."
"In a year that has been filled with incredibly challenging issues, this oil spill constitutes one of the most devastating situations that our community has dealt with in decades," she said. "We are doing everything in our power to protect the health and safety of our residents, our visitors, and our natural habitats."
Martyn Willsher, president and chief executive officer of Amplify Energy, said the company is also investigating the spill, sending their divers to examine the leak. However, Orange County District Attorney Todd Spitzer said that no one from the company "should not be able to go anywhere near that pipeline."
"If the investigation is not done independently, it's a travesty," Spitzer said during a press conference.
Willsher claimed that there is "no active leak" that the company is aware of and suspected that a ship's anchor may be the cause of damage, though this is still under investigation.
Rep. Michelle Steel of California has sent a letter to President Biden requesting a Major Disaster Declaration for Orange County that would make additional federal assistance available for state and local agencies responding to a natural disaster.
"It is imperative that the Federal Government assist in recovery efforts," Steel writes. "Constituents who live along the shoreline are already reporting oil on the beach and strong odors. Officials are already responding to protect sea life. Dead fish and birds are already being reported on beaches and shorelines. I have serious concerns about the environmental impacts of the spill and applaud the workers who are doing their best to prevent the oil from hitting sensitive wetlands."
Who And What Has Been Impacted?
The pipeline connects to an oil production platform named Elly that has operated since 1980. Beta Operating Co. is a subsidiary of Amplify Energy Corp. that operates Elly in federal waters, despite the California ban of new offshore oil operations.
The breach occurred about 5 miles off the coast of Huntington Beach in Orange County. The spill now stretches from Huntington Beach to Laguna Beach and is moving in a "southerly direction," according to U.S. Coast Guard Capt. Rebecca Ore.
Orange County Supervisor Katrina Foley said Sunday that there is petroleum stench in the air with a foul taste from the vapors.
Wetlands of the community beaches have severe damage.
"These are wetlands that we've been working with the Army Corps of Engineers, with a land trust, with all the community wildlife partners to make sure to create this beautiful, natural habitat for decades," Foley said. "And now, in just a day, it's completely destroyed."
Huntington beaches nicknamed "Surf City" could remain closed for weeks or months.
As for the wildlife devastated by the oil spill, only four oiled birds were collected so far on the coast. Michael Ziccardi, a veterinarian and director of the Oiled Wildlife Care Network (OWCN) at UC Davis said that one of the birds, a brown pelican, had "chronic injuries" and had to be euthanized.
"Right now, with four live birds collected to date, its' much better than we had feared," Ziccardi said. "But typically spills of this nature, we're here for several weeks to months continuing to respond to animals and respond to calls for animals that may be out there. So it's really too early to tell, but we are cautiously optimistic."
Ziccardi said that the OWCN's hotline had received 300 calls of oiled animals so far, adding the company has a 50 to 75 percent success rate of returning animals into a clean environment.
A History of Violations
Amplify Energy is a small, independent company with 222 employees as of 2018, as reported in their last company filing. Its most recent financial report shows sales of $153 million, with year-to-date losses of $54.4 million through the end of June.
Amplify Energy's stocks have since drastically plummeted. Reuters reported that the company's shares have plunged nearly 63% and were on their way to "their worst day of trading."
The company has since been under scrutiny as public records reveal a troubling past.
Public records from the Bureau of Safety and Environmental Enforcement (BSEE), a federal agency responsible for offshore oil platform inspections, reveal dozens of noncompliance incidents and violations from the Beta Operating Co. The company has had a total of 125 citations since its start in 1980. Between 2013 and 2014, they were fined $85,000 for three incidents. Two of these incidents left workers injured, and the other involved crude oil that was released through a boom malfunction that had an improperly bypassed safety device.
BSEE also lists 71 non-compliance incidents, in which parts of the facility are temporarily shut down until corrections are made, one additional incident requiring the entire facility to be temporarily shut, and 53 warnings for violations deemed not severe or threatening.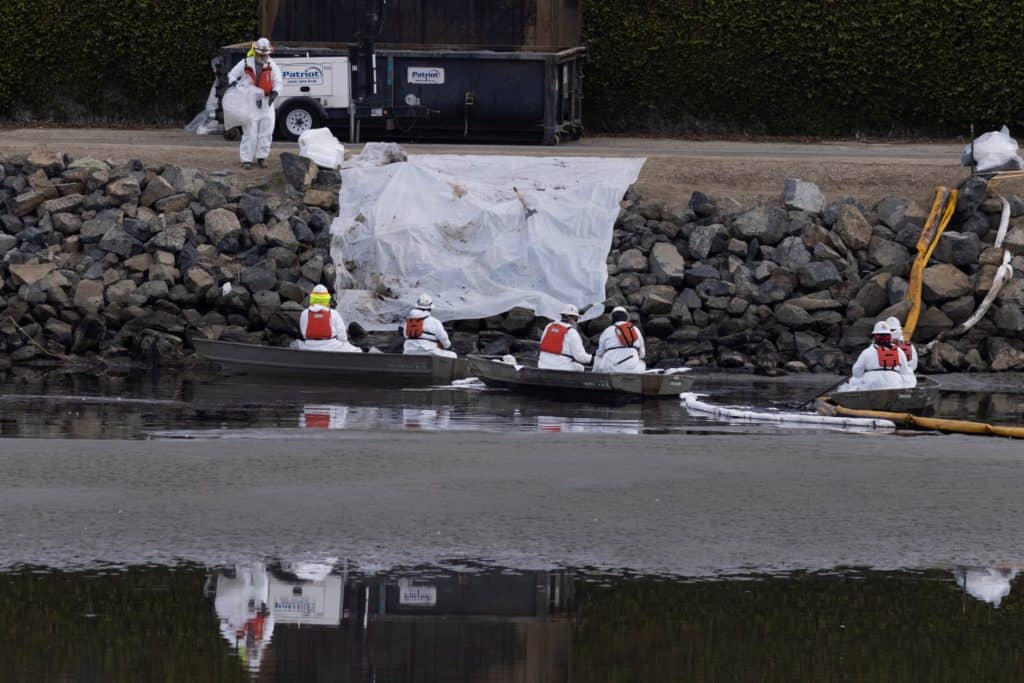 The Los Angeles Times reported that Beta Field had just emerged from bankruptcy just four years ago. In 2017, then-owner Memorial Production Partners filed for bankruptcy and later emerged as Amplify Energy. By March 2020, the firm had "lowered its 2020 capital expenditure budget by approximately $17 million or 37% in response to the recent severe decline in commodity prices and the overall downturn in the market attributed to COVID-19 and OPEC's decision to increase production."
California experienced a handful of devastating oil spills from offshore drilling since 1969 when an oil spill off Santa Barbara leaked over three million gallons of oil. Then, on Feb. 7, 1990, nearly 417,000 gallons of crude oil spilled in the same stretch of Huntington Beach. Its most recent spill was in 2015 again off Santa Barbara, with as much as 84,000 gallons dumped into the Pacific Ocean.