Unvaccinated NYC Workers Face Possible Termination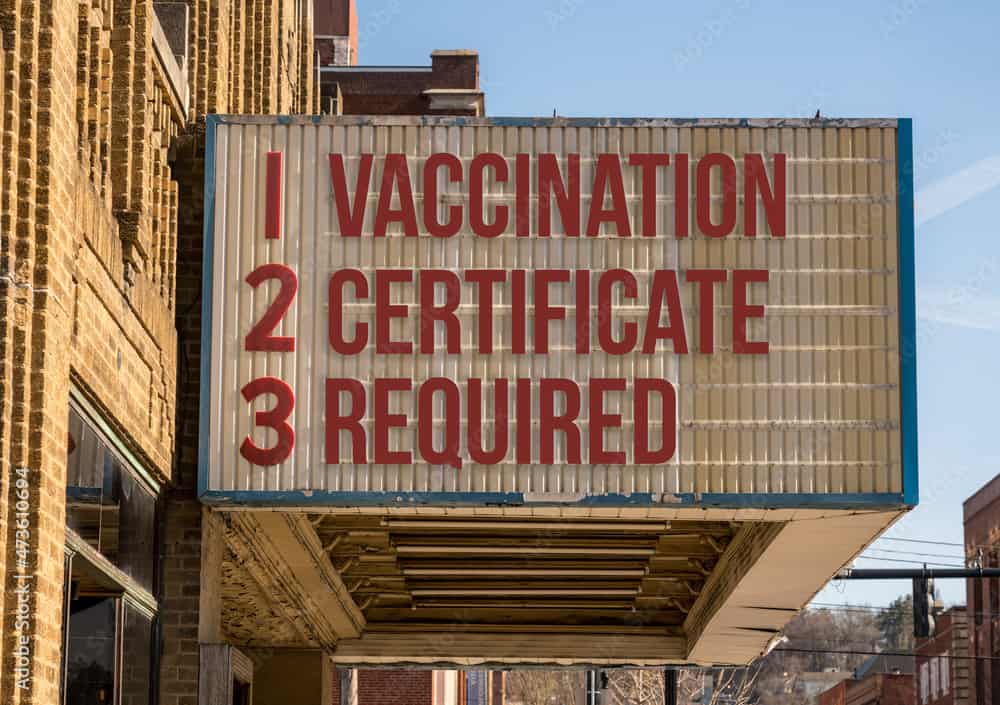 New York City municipal workers could be losing their jobs this weekend for not complying with the coronavirus vaccine mandate. Meanwhile, mask mandates have ended statewide.
New York mask mandate ends
On Wednesday, Gov. Kathy Hochul announced she would drop New York's strict indoor mask mandate, which will no longer require proof of vaccination or mask-wearing for customers frequenting businesses including hotels, retail stores, and pharmacies. While masks are no longer mandatory, the discretion of mask use is up to businesses and local governments.
"We want to make sure that every business knows this is your prerogative, and individuals who want to continue wearing masks, continue wearing masks," said Gov. Kathy Hochul.
Masks will still be required in schools, public transportation, nursing homes, health care centers, correctional facilities, and homeless shelters.

"… I'm still going to see a lot of people wearing masks because they will feel safer," she said. "That is something that they are very, very welcome and encouraged to do."
However, New York City is expected to maintain its mandate, with restrictions to enter restaurants, theaters, museums, and arenas without proof of vaccinations.
"It has been extended, waivers were put in place, everything was put in place to make the right decision," NYC Mayor Eric Adams said last Friday during an interview with NY1. "And we're asking all New Yorkers who are here. Vaccines and boosters. This is our most formidable weapon against a formidable opponent called COVID, and so we need people to be vaccinated."
Terminations of the Unvaccinated
But, some have refused to get the vaccine, a choice that may affect their employment. The city is, reportedly, expected to fire thousands of municipal workers this weekend who refused to get vaccinated against covid-19. While official termination numbers from City Hall will remain unknown until the end of the weekend, more than 3,500 employees were terminated so far. Adams claimed it was "up to them to make a decision."

"They're quitting. I'm not terminating, they're quitting," he said. "We don't want to terminate anyone. We want people to be vaccinated and employed so that our economy can continue to open, and the fastest way to get that open is for us to have a safe environment."
Still, the over 3,000 unvaccinated workers in the city continued to protest the mandate on Friday, a deadline that businesses were instructed to follow for any new hires who joined after Aug. 2, 2021. Those who were unvaccinated against the coronavirus were placed on leave without pay since the end of January and are expected to be fired.
"I want them to stay," Adams said. "I want them to be employees of the city. But they have to follow the rules that were put in place before my administration."
Last October, former mayor Bill de Blasio enabled the vaccine mandate for about 370,000 musical workers.
"You're making the decision that you're not going to follow the rules of getting vaccinated, and that's a decision that they're making," Adams added.
Teachers' appeal is denied
Workers apart of the ongoing protests of hundreds of people early Friday morning were New York City public school teachers who requested an appeal to the Supreme Court to revoke the vaccine mandate. Justice Sonia Sotomayor, who directed the appeal, rejected it on Friday. This is the second appeal following last October's filing.
The appeal, filed earlier this week, argued that "the city was violating the religious freedom of school employees by declining to accept some of their reasons for seeking an exception," according to NBC News.
School employees in the city were advised to get the vaccine by Feb. 14 or face termination from employment or agree to remain on leave without pay.
Unvaccinated Firefighters against Covid vaccine
Similarly, those in the line of duty are not exempt from the mandate. Reportedly, more than 25 unvaccinated firefighters are expected to be laid-off.
"These firefighters spent a career in service to this city, protecting the lives and properties of New York City residents at the risk of their own lives, health, and safety," said Andrew Ansbro.
Ansbro, the president of the Uniformed Firefighters Association of Greater New York, claimed the "natural immunity" of those firefighters who contracted Covid should have been considered as an "acceptable alternative vaccination."
"The irony of this situation is that since the beginning of the mandate, tens of thousands of New York City employees filled the reasonable accommodation out, then went to work unvaccinated anyway, and they were allowed to test each week, "Ansbro said. "Currently, this wave of the pandemic is winding down, and those of us that refuse to submit to the vaccine now will lose their jobs.
Ansbro condoned those who refused to obey the vaccine mandate but encouraged them to get vaccinated anyway "before it's too late.
"In the end, I'm hoping that the decision you make in the long run is the right decision for you and your family," he said. "And if you choose not to get vaccinated, please get your affairs in order with the department and resign on your own terms before New York City fires you."
More than 99 percent of municipal workers and more than 86 percent of New York City residents are vaccinated. Less than 1 percent of roughly 370,000 city workers are on leave without pay and are expected to be terminated this weekend.