Weekend Reviews! Massive Wildfires Scorch Southern Europe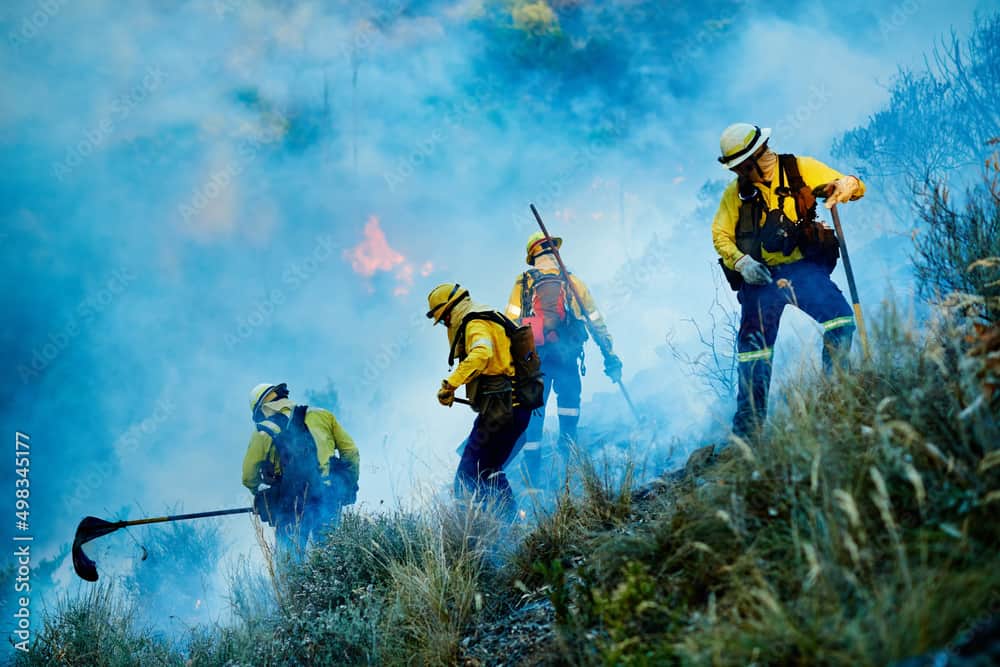 Huge wildfires have engulfed massive tracts of land in Portugal, France, and Spain as firefighters from those and neighboring countries fought fiercely to contain the blazes. The blaze erupted due to a record-breaking heat wave that had engulfed the continent of Europe.
The fires have been further exacerbated by strong winds that have caused them to spread even more rapidly. As a result, fires in Portugal have reportedly killed several people, injured hundreds of others, and forced many more to evacuate under emergency conditions. Among those killed by the blazes in Portugal include a firefighter whose plane crashed while on duty.
Experts have pointed to the fact that Southern Europe experienced an arid and hot spring this year, priming the pump for more extreme fire conditions to arise now that the heat of summer has set in.
Climate Change has made fire seasons longer and more volatile across the globe. At the same time that Europe faces unprecedented fire conditions, blazes have grown in places like Morocco, Hungary, and California.
The heat wave affecting the fires has made its way to the U.K., where the British government issued its first-ever red alert for extreme heat, as temperatures are due to soar to an unprecedented 104 degrees Fahrenheit in Southern England, shattering previous records.
The infrastructure of the United Kingdom is particularly ill-equipped to deal with such high temperatures due to the rarity of their occurrence. Many buildings do not have air-conditioning and become stifling hot when temperatures rise.
Temperature records have also been broken in other European nations amidst the unprecedented onslaught of high temperatures. Portuguese authorities reported that the town of Pinhao said a record-breaking high of 117F on Wednesday.
"As long as greenhouse gas emissions are not reduced to zero, heatwaves will continue to intensify, become more frequent, and last longer." Said Robert Vautard of Sorbonne University.
FBI-Most Wanted Drug Lord Captured in Mexico
Mexican authorities have captured Rafael Caro Quintero, a notorious drug lord. He had been on the FBI's most wanted list for decades due to his involvement in killing a federal agent.
Quintero was captured after a drug dog named Max sniffed him out, hiding in some brush in the Mexican wilderness on the border of Sinaloa and Chihuahua. At the time of his arrest, Quintero had two Mexican warrants hanging over his name and an extradition request from the United States government.
Quintero is perhaps most notorious for being one of the founders of the Guadalajara drug cartel that crested in power in the 80s and primarily dealt in trafficking cocaine, heroin, and marijuana, smuggling huge shipments from Mexico into the United States.
One particularly famous group member was Juan "Chapo" Guzman, who would go on to form the Sinaloa drug cartel and is also now imprisoned.
Caro Quintero, at one point, had been previously imprisoned for the kidnapping, torture, and murder of U.S. federal agent Enrique "Kiki" Camarena in 1985; however, a Mexican court allowed Quintero to walk free in 2013, a decision that was highly controversial with both American and Mexican authorities.
Referring to Quintero's arrest, Mike Vigil, former chief of international operations, said "It is probably one of the most important captures of the last decade in terms of importance to the DEA."
That sentiment was apparent in the reward offered by the U.S. Government concerning information about Quintaro's whereabouts: $20 million.
"This will hopefully start to mend the frayed relationship between the United States and Mexico in terms of combatting drug trafficking," said Vigil.
Joe Machin Once Again Frustrates Fellow Democrats by Blocking Climate Action
Senator Joe Manchin of West Virginia has once again stunned his colleagues and the public by voting against fellow Democrats on a critical piece of legislation backed by Congressional democrats and President Joe Biden.
The plan obstructed was the climate section of Biden's enormous infrastructure bill, a massive piece of legislation that Manchin has repeatedly taken issue with, and taken pains to compartmentalize and miniaturize.
The funding Biden envisioned to combat Climate Change was essentially the centerpiece of the working version of the legislation, with over $150 billion in planned funds to reward businesses that utilize clean energy and punish companies that do not.
Manchin has repeatedly stood in the way of such legislation due to his loyalty to the coal industry, which holds significant influence in his constituent state.
Manchin's reticency to approve the legislation has amounted to a stunning blow to the Democrats' ambition to deliver some tangible legislation in an election year that could dramatically pivot the center of influence in American politics, depending on the results of the upcoming mid-term elections.
The future of the legislation now remains unclear. However, it seems doubtful that Biden and the rest of the congressional democrats will get the package they wanted by their initially desired timeframe of late August.
Manchin expressed feelings that bigger-picture priorities were falling flat to an American public stressed by inflation and economic troubles.
"Senator Manchin believes it's time for leaders to put political agendas aside, reevaluate and adjust to the economic realities the country faces to avoid taking steps that add fuel to the inflation fire," said Manchin spokesperson Sam Runyon.
Officials have reacted with dismay towards Manchin's positions.
"It seems odd that Sen. Manchin would choose as his legacy to be the one man who single-handedly doomed humanity." So said John Podesta of the Liberal Center for American Progress.