95th Annual Oscars Celebrates Historic Wins
The 95th Academy Awards ceremony, held on March 12, 2023 in Dolby Theatre, offered a night of celebration and recognition of the diverse talent across Hollywood.
Host Jimmy Kimmel kicked off the night with a parachute drop from the rafters and light pokes at a few select celebrities in the audience before addressing the infamous slap that occurred between Chris Rock and Will Smith at last year's celebration.
"We want you to have fun, we want you to be safe, and most importantly, we want me to be safe. If anyone commits an act of violence anytime during this show, you will be presented the Oscar for Best Actor and be permitted to give a 19-minute-long speech," Kimmel joked.
The Night's Winners
From historic wins to emotional speeches, the ceremony was a powerful reminder of the impact of the film industry on society and the importance of representation on screen.
The biggest winner of the night was the action-comedy film "Everything Everywhere All at Once," directed by Daniel Kwan and Daniel Scheinert, which won seven trophies, including Best Picture, Best Director, Best Original Screenplay, Best Actress, Best Supporting Actress, Best Supporting Actor, and Best Film Editing. The film tells the story of Evelyn Wang – an immigrant and retired librarian who suddenly discovers her ability to shift between universes and ultimately learns she must save the multiverse.
"For all the little boys and girls who look like me watching tonight, this is the beacon of hope and possibilities. This is proof [to] dream big and dreams do come true. And ladies, don't let anybody tell you you are ever past your prime. Never give up," said Michelle Yeoh – the actress who portrayed Evelyn – in her award acceptance speech.
Yeoh's win marks the first time an Asian woman has won the Oscar for best actress. Other nominees for the award included Cate Blanchett for Tár, Andrea Riseborough for To Leslie, Michelle Williams for The Fablemans, and Ana de Armas for Blonde.
The Oscar for best actor was awarded to Canadian-American actor Brendon Fraser for his powerful and raw performance in The Whale – a psychological drama featuring a morbidly obese English teacher seeking to reconnect with his estranged daughter. This win further solidified Fraser's monumental return to the big screen. Other nominees for the award included Paul Mescal for Aftersun, Colin Farrell for The Banshees of Inisherin, Austin Butler for Elvis and Bill Nighy for Living.
The award for Best Visual Effects went to Avatar: the Way of Water, beating out other major blockbusters such as Top Gun: Maverick and Black Panther: Wakanda Forever. Best International Feature Film went to All Quiet on the Western Front, directed by Edward Berger.
Emotional Speeches From First Time Winners
Both the best supporting actor and best supporting actress award recipients delivered moving speeches.
Ke Huy Quan, who won the Oscar for best supporting actor for his role as Waymond Wang in Everything Everywhere All at Once, dedicated his win to his 84 year-old mother and his wife Echo, before reflecting on his personal struggles to reach that very stage.
"My journey started on a boat. I spent a year in a refugee camp. And somehow I ended up here – on Hollywood's biggest stage," Quan started. "They say stories like this only happen in the movies. I cannot believe it's happening to me."
Additionally, Jamie Lee Curtis offered up some emotional words when she accepted her Oscar for best supporting actress for her role as Deirdre Beaubeirdre in Everything Everywhere All at Once. She acknowledged the countless people she said had assisted her throughout her career and invited them to also share in the victory.
"To all of the people who have supported the genre of movies I have made for all of these years – the thousands and hundreds of thousands of people – we just won an Oscar together," Curtis proclaimed. "And my mother and my father were both nominated for Oscars in different categories – I just won an Oscar."
This is Curtis' first Oscar in her 46 year-long career.
Goodbye Red Carpet
This year was also the time in more than 60 years that the Oscars have not featured a red carpet for celebrities and distinguished guests to be photographed on prior to the event. Oscar officials claimed the swap for this year's champagne carpet was due to fears of color clashing with the orange tent draping the event. Instead organizers believed a more muted champagne coloring would evoke a calmer vibe, similar to a beach sunset.
While many celebrities arrived in shades of white and cream to complement their environment, Oscar-winning director Questlove instead opted for an all black attire – including a diamond-encrusted pair of black Crocs. This is not the first time the star has worn Crocs to the Oscars and suggests it won't be the last, stating he's "just been choosing comfort for years now."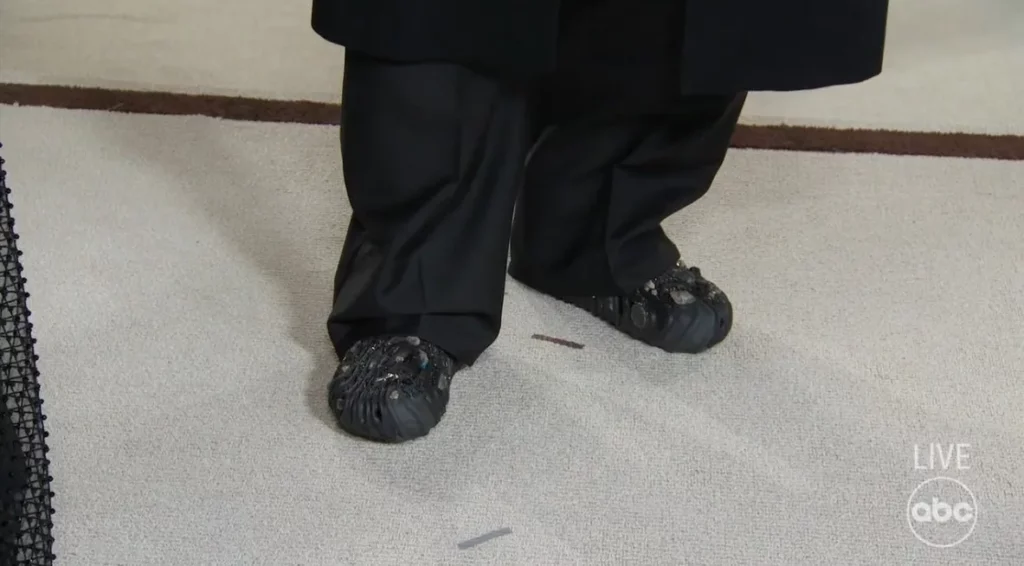 The 2023 Oscar Awards were a celebration of the diverse talent in Hollywood and a reminder of the power of film to inspire and impact society. This year's ceremony acted as a testament to the industry's renewed commitment to inclusivity and representation on screen, and a call to action for the continued progress and growth of the industry as a whole.