First Republican Debate: Here's What We Know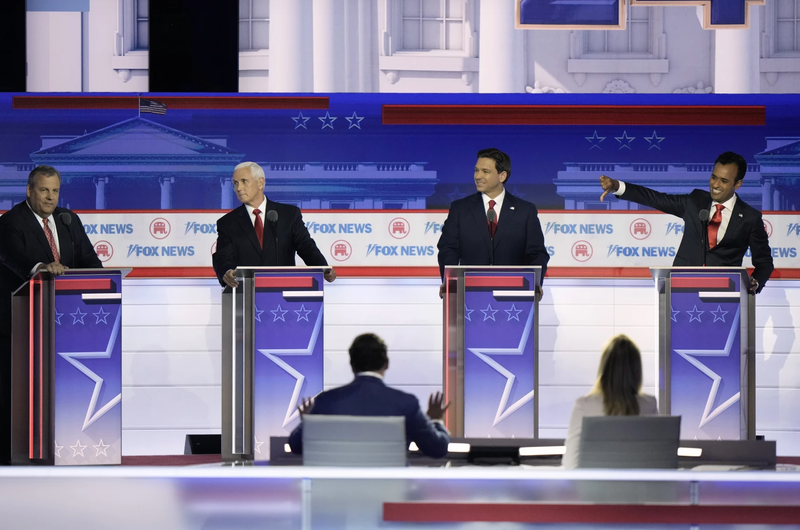 Eight Republican presidential candidates faced off in the first Republican debate of the presidential primary cycle on Thursday in Milwaukee, where they made their cases for their candidacies in front of their biggest crowd yet.
The candidates argued back and forth over a range of topics, including abortion, the economy, Ukraine, and education. However, the debate's most heated exchanges occurred when the topic of former President Donald Trump came up. Trump was the "elephant not in the room," as Fox News host and moderator Bret Baier described it.
The eight Republicans were asked whether they would still back Trump as their candidate even if he were to be found guilty of a crime. All but two said that they would.
The candidates who participated in Thursday's debate were:
CLASH OVER THE UKRAINE WAR
Vivek Ramaswamy said that if elected president, he would not favor providing further help to Ukraine in light of their conflict with Russia.
Ramaswamy criticized the administration's backing and brushed off Mike Pence and Chris Christie's trips to Ukraine.
According to him, American support for Ukraine is "disastrous," and funds flowing to Kyiv need to be used locally instead.
Ramaswamy said, "This is disastrous; we are defending against an invasion across somebody else's border when we should be using those same military resources to prevent the invasion across our southern border here in the United States of America.
His comments were met with an immediate and direct reaction.
Nikki Haley retorted, "You have no experience in foreign policy, and it shows."
NIKKI HALEY CRITICIZES TRUMP AND OTHER REPUBLICANS OVER FEDERAL SPENDING
Former South Carolina governor Haley attacked several of her Republican opponents over the nation's economic state, singling out DeSantis, Scott, and Pence for voting for legislation that increased the national debt. She also criticized Trump for adding $8 trillion to the national debt during his single term in office.
"Our kids are never going to forgive us for this," said Nikki Haley, who was U.S. ambassador to the United Nations during the Trump administration.
She blamed Republicans for authorizing a $2.2 trillion COVID relief measure and reintroducing earmarks during Trump's presidency. In the budget for 2024, Republicans requested $7.4 billion in earmarks, while Democrats requested $2.8 billion.
"You tell me, who are the big spenders?" Haley declared. "I think it's time for an accountant in the White House."
Haley holds a bachelor's degree in accounting and served as CFO of her family's clothing business.
CANDIDATES DEBATE ON FEDERAL ABORTION BAN
The presidential candidates squared up for the first time in person on abortion rights and whether a federal law should be passed outlawing abortion, a topic that would likely be crucial in the general election in 2024. However, among probable Republican voters, candidates' proposals to end abortion were regarded as the least important of all the policy objectives in a recent CBS News survey.
Haley started by describing herself as "unapologetically pro-life" but said that the abortion debate is a sensitive one. Given that the Senate requires 60 votes to enact legislation, she asked her fellow Republican candidates to be open with voters about the chances that a nationwide abortion ban would pass both the House and the Senate.
DeSantis said he was happy to sign Florida's legislation prohibiting abortions after six weeks into law in April and that he believes "in a culture of life."
Scott reaffirmed his support for a 15-week limit nationally, and Pence concurred, saying it is "an idea whose time has come."
Burgum, who signed a bill prohibiting abortion in almost all of North Dakota, reiterated his opposition to a nationwide ban on the procedure because he thinks that each state should be allowed to decide on the matter.
He said, "We need to get back to freedom and liberty for the people,"