Johannesburg Fires: Death Toll Rises To 73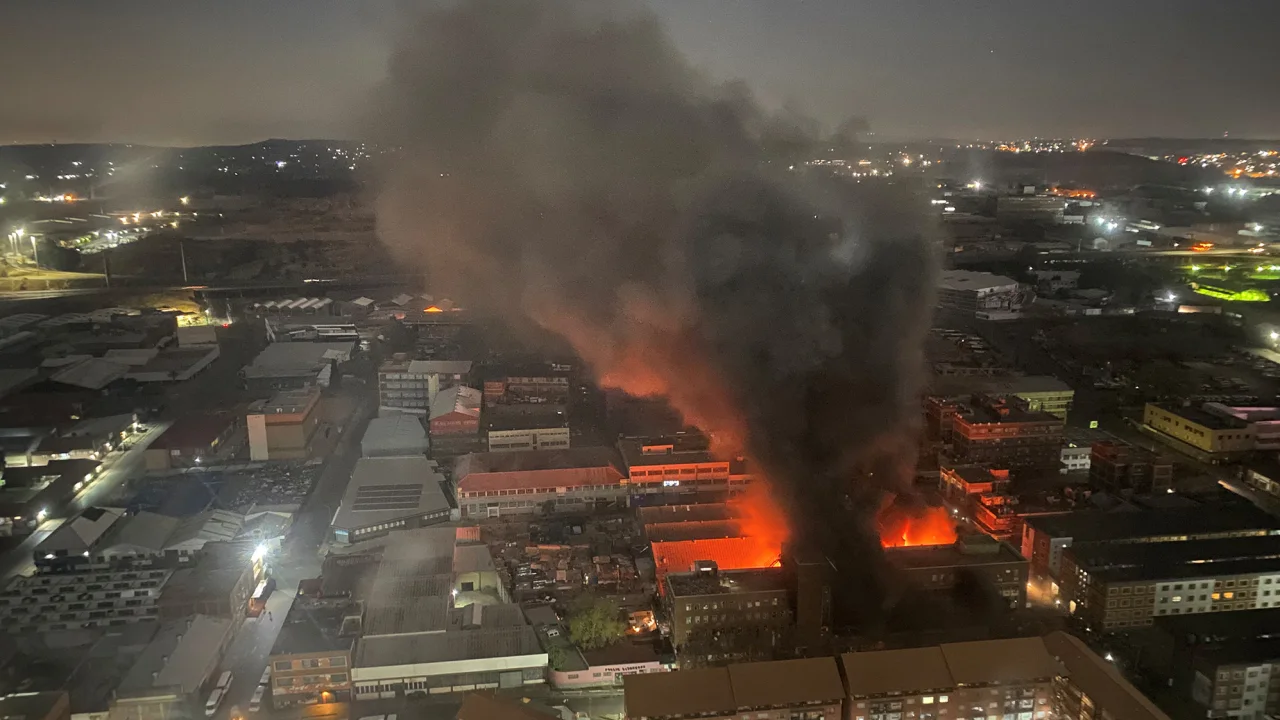 A fire ripped through a five-story structure in downtown Johannesburg that had been converted into unauthorized housing, ending the lives of at least 73 people and injuring scores more.
Authorities claimed they went floor by floor, looking for survivors, removing burned remains, and placing them on the streets. At least 12 children died, according to municipal authorities, during a press conference on Thursday afternoon.
According to rescue personnel, the fire has been extinguished.
According to Robert Mulaudzi, a representative for the city's emergency services, more than 50 people sustained injuries in addition to the deaths. Mr. Mulaudzi shared a video on the platform X, previously known as Twitter, showing fire engines and ambulances outside the burned-out structure.
What Caused The Fire?
It is unclear how the fire began; however, it might have originated on the bottom level of the building, which historically housed apartheid government offices and acted as a checkpoint for regulating the flow of Black employees in and out of the city.
The exact cause of the fire has yet to be determined, but officials, experts, and residents identified the overcrowded structure, which had been partitioned into a maze of tiny rooms, as a disaster "waiting to happen."
Flammable materials like cardboard and sheets served as dividers between the living areas. The ceiling was dangling with electric wires. People who live in such inadequate housing in Johannesburg sometimes lack consistent access to electricity, forcing them to depend on candles, tiny fires, or even makeshift power grid connections.
According to health authorities, at least 12 children perished in the fire, while at least 88 survivors were being treated in hospitals.
Some of the dozens who perished may have run into an internal security barrier while attempting to escape the fire. Mgcini Tshwaku, a City Council member in charge of public safety, said that some of the victims were discovered behind a barred gate on the ground level.
The Johannesburg housing crunch
After apartheid ended with severe restrictions on where Black people could legally reside in South Africa in the 1990s, many relocated to cities in quest of better possibilities. However, there was inadequate affordable housing to fulfill the demand.
Around the same time, landlords started abandoning properties in Johannesburg's business district, and the buildings gradually filled up with impoverished and desperate individuals who couldn't afford anything else on the market.
Authorities now claim that such structures are often "hijacked" by organized institutions demanding money from residents.
"The lesson for us is that we've got to address this problem and root out those criminal elements," South African President Cyril Ramaphosa stated on Thursday night. "It is these types of buildings that are taken over by criminals, who then levy rent on vulnerable people and families who need and want accommodation in the inner city."
According to one local official, more than 600 abandoned properties in Johannesburg are being unlawfully inhabited, including 30 structures owned by the city. The city, which has had six mayors in less than three years, has failed to clamp down on occupiers, in part due to a legislative need to rehouse people evicted from such areas.
Although the City Council recently examined more than a dozen similar structures as part of attempts to remove them, officials have also cited safety issues as barriers to completing any inspections on the structures.