PROUD BOYS LEADER SENTENCED TO 17 YEARS FOR CAPITAL RIOT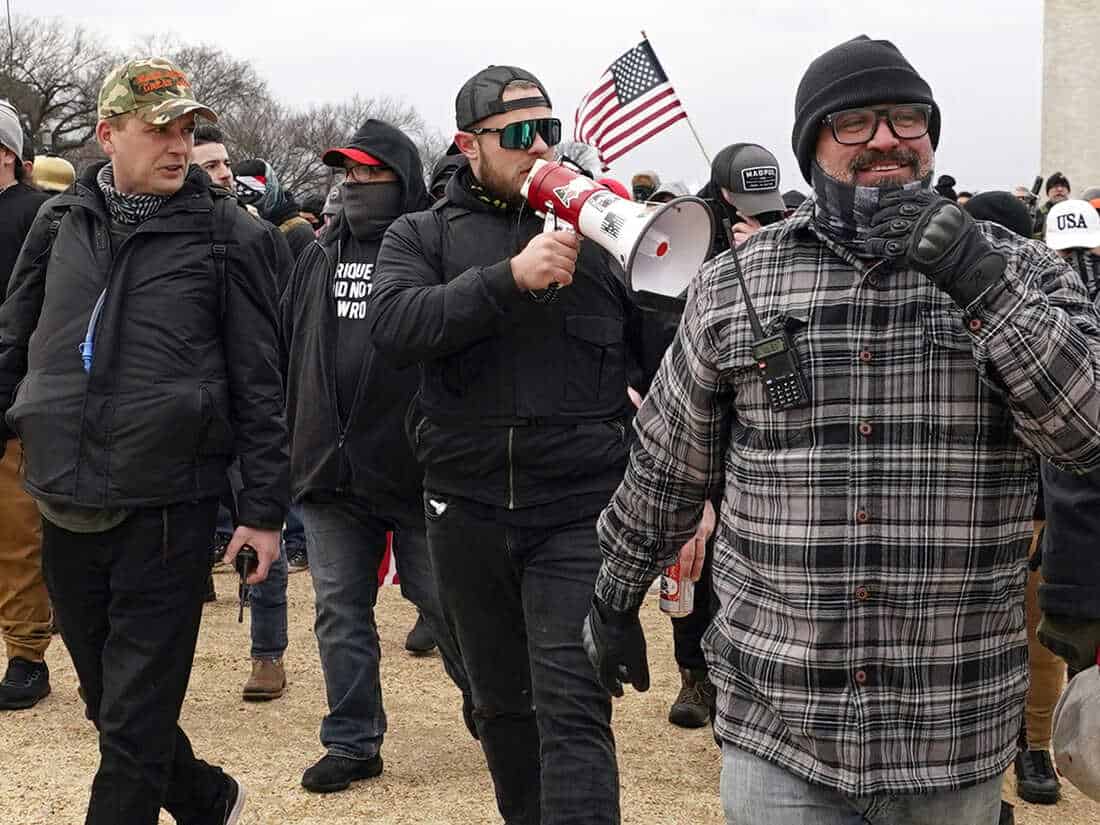 The court sentenced two former Proud Boys leaders on Thursday, giving them one of the heaviest sentences ever for someone accused of the January 6 assaults. The two had been found guilty of seditious conspiracy for their acts during the assault on the U.S. Capitol on Jan. 6.
The former head of the organization's Florida branch, Joseph Biggs, was given a 17-year jail term by U.S. District Judge Timothy Kelly. He also handed down a 15-year jail term to Zachary Rehl, the former head of the Proud Boys' Philadelphia branch.
Biggs was a close friend of former Proud Boys chairman Enrique Tarrio and a veteran of the US Army. After a trial that lasted more than four months, Biggs and two other Proud Boys leaders were found guilty of seditious conspiracy in May.
INITIAL SENTENCE REQUEST
Prosecutors initially requested Kelly sentence Biggs to 33 years in prison, nearly double the longest sentence ever given to a defendant in connection with the January 6, 2021 revolt, claiming that Biggs and his co-defendants had "intentionally positioned themselves at the vanguard of political violence in this country" for years and on January 6, 2021, sought to "change the course of American history."
However, Kelly went well below that request, stating that in order to avoid making significant or unjustified disparities, he had to be mindful of the sentences that other people had received for actions related to January 6, 2021, even though he did not want to "minimize the violence that did occur" during the attack on the Capitol.
The lengthy sentence is the second-longest one imposed on a person found guilty of taking part in the Capitol assault. Stewart Rhodes, the founder and head of Oath Keeper, was given the maximum jail term, 18 years.
Zachary Rehl, another co-defendant, was sentenced to 15 years in prison soon after Biggs' hearing. He wept in court on Thursday, saying, "I regret involving myself with any of it,"
Dominic Pezzola, a fifth Proud Boys member, was cleared of seditious conspiracy in May but convicted of other severe counts.
ENRIQUE TARRIO SENTENCING
Enrique Tarrio, a Miami resident who served as the national chairman and senior commander of the Proud Boys, is due to be sentenced on Tuesday. Because U.S. District Judge Kelly was ill, his sentence was postponed until next week.
Tarrio was not present in Washington on January 6. He was jailed two days before the Capitol incident on allegations of defacing a Black Lives Matter banner during a previous march in the nation's capital, and he obeyed a judge's order to leave the city after his incarceration. Prosecutors claimed he chose Biggs and Proud Boys chapter president Ethan Nordean to be the group's leader on the ground while he was away.
Rehl, Biggs, Tarrio, and Nordean were convicted of seditious conspiracy, a seldom prosecuted Civil War-era felony. Dominic Pezzola, a fifth Proud Boys member, was cleared of seditious conspiracy but convicted of additional severe counts.
Biggs and other Proud Boys joined the mob that burst past police lines and forced legislators to escape, disrupting the joint session of Congress that was supposed to recognize Biden's election triumph.