Breaking: Morocco Earthquake Leaves Hundreds Dead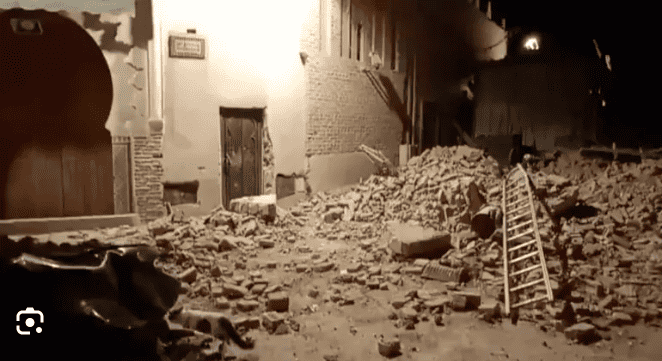 An earthquake of 6.8 magnitude has devastated Morocco, killing at least 820 people, wounding over 670, demolishing old structures, and driving scared locals into the streets for protection.
On Saturday, Moroccan official television confirmed the death toll, quoting the Ministry of Interior. 205 of those wounded were in critical condition.
Many residences in the mountain community of Asni, near the epicenter, were damaged, according to Montasir Itri. "Our neighbors are under the rubble, and people are working hard to rescue them using available means in the village," he stated.
Residents of Marrakesh, the next major city to the center, said that several structures in the old city, a UNESCO World Heritage Site, had fallen. Images on local television showed a collapsed mosque minaret and debris from crushed automobiles.
According to the televised announcement from the Interior Ministry, the quake struck the provinces of Al Haouz, Ouarzazate, Marrakesh, Azilal, Chichaoua, and Taroudant.
A report from the United States Geological Survey (USGS) states that the temblor struck just after 11 p.m. local time (22:00 GMT) on Friday evening.
The Aftershock
According to the US Geological Survey, a 4.9-magnitude aftershock was registered only 19 minutes after the earthquake.
Mustapha Louaanabi, who also lives in the Atlas Mountains' foothills, described the time the earthquake occurred as "loud, deafening noises" and feeling like "a train was passing right in the middle of the living room."
His family rushed outdoors, where they remained until 8 a.m. while aftershocks persisted. "Nobody slept all night because of the aftershocks, and the noise of these shocks created panic," he claimed.
Louaanabi's home survived the earthquake, but a neighboring village was destroyed, and people are unable to recover remains from beneath the wreckage, he added. Many of the settlements in the Atlas Mountains' foothills around the quake's epicenter are secluded and difficult to reach.
International Aid From Israel To Morocco