GOP Divided on Jim Jordan's Bid for House Speaker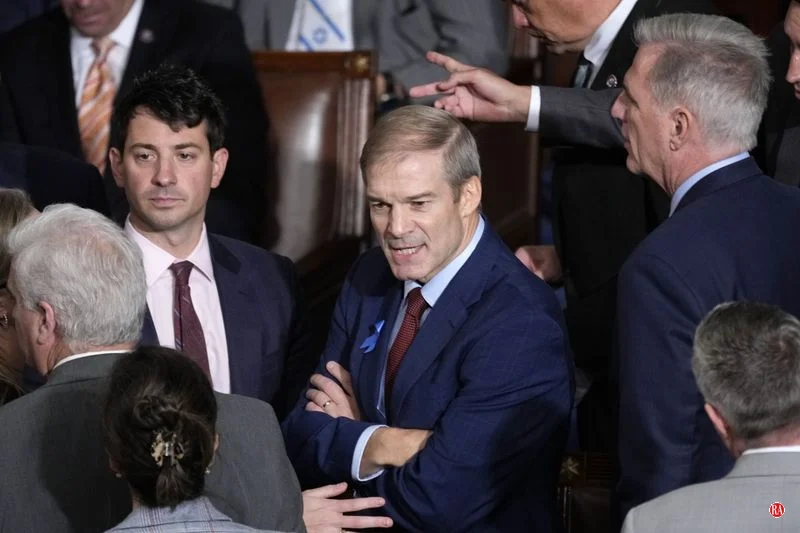 The GOP caucus in the House is at a crossroads with the Speaker's gavel still hanging in the balance. Rep. Jim Jordan of Ohio has yet to secure enough votes to ascend to the Speaker's chair, a position vacant since the ousting of former Speaker Kevin McCarthy earlier this month. The factionalism within the GOP has been a barrier to electing a new Speaker, leaving the House in a speaker stalemate.
The ongoing struggle comes in the wake of Rep. Jordan's failed attempts to secure the position in two separate votes on the House floor this week. The staunch conservative has been actively courting holdouts within his party, yet 22 Republicans opposed him in the second vote, illustrating the divide within the Republican party.
Amid a legislative stalemate and pressing national concerns awaiting congressional action, the necessity for unity and leadership became ever more pronounced.
Thursday's Caucus Meeting
On Thursday, Rep. Jordan and the GOP caucus convened for hours behind closed doors to discuss a way forward. One proposal suggested was to empower Speaker Pro Tempore Patrick McHenry to lead the House until January while Jordan remains the nominee. However, this idea found little traction among the party members.
A third vote was anticipated on Thursday but was postponed. The announcement came after nearly four hours of deliberations, revealing the GOP's struggle to rally behind a single candidate.
Rep. Tom Emmer, the House majority whip, informed colleagues that the House will reconvene on Friday at 10 a.m. for possibly another vote. Jordan, after spending the day negotiating with holdouts, seemed adamant about his bid.
Post-discussion, Jordan remarked that it was a "good discussion" but provided no further details regarding any breakthrough.
Rep. John Rutherford (R-Fla.) hinted that Thursday's meeting wasn't about swaying the holdouts but rather about changing Jordan's stance. The Florida Representative highlighted the general sentiment, "He failed his moment of leadership when he failed Steve Scalise and that was pretty much everyone's opinion."
Jordan's Outreach to Holdouts
In a bid to gain more votes, Jordan has reportedly made inroads with a faction of holdouts from New York. Leveraging the influence of former New York GOP Rep. Lee Zeldin, who shares a close rapport with the freshman New York Republicans, Jordan aims to garner support ahead of the next vote scheduled for Friday. However, the task ahead remains daunting as 22 Republicans opposed him in the second ballot, and more are expected to in the third. The New Yorkers, unlike other holdouts, have specific district-centric requests, notably concerning state and local tax deductions. Yet, a significant portion of the opposition stems from principled stands, undeterred by ongoing threats, illustrating the uphill battle Jordan continues to face.
Death Threats
In the midst of the contentious Speaker elections, a disconcerting wave of hostility emerged, targeting some Republicans who opposed Jim Jordan's bid. Notably, Colorado Rep. Ken Buck disclosed receiving four death threats, alongside a torrent of phone calls amounting to 20,000 unattended voicemails, consequent to his vote. His stance even led to an eviction notice at one of his state offices, with the landlord discontented over Buck's voting record on this matter. This alarming trend wasn't isolated to Buck; Iowa Rep. Mariannette Miller-Meeks and the spouse of Rep. Don Bacon also reported threats. Jordan condemned these threats, urging an end to such intimidations. The underpinning pressure campaign and aggressive tactics, primarily fueled by right-wing media and Jordan's fervent supporters, manifested a challenging, hostile atmosphere, further polarizing the party.
Emerging Contenders and Continual Strife
The ongoing struggle hints at potential new entrants in the speaker's race, with Reps. Jodey Arrington of Texas, Jack Bergman of Michigan, and Mike Johnson of Louisiana is being touted as possible candidates, albeit with their own challenges in reaching the 217 votes threshold. Jordan, a staunch Trump ally and a co-founder of the hardline House Freedom Caucus, finds his polarizing figure a double-edged sword in this race. His difficulty in securing the speakership, despite Trump's endorsement, underscores the diminishing clout of Trump's endorsement and exposes the fissures within the House GOP amidst a looming government shutdown and escalating global crises.
Friday's Anticipated Vote
Jordan's office has stated that the third round of voting for the Speaker will commence Friday morning at 10 a.m. Ahead of the vote, at 8 a.m., Jordan will hold a news conference, which might provide insight into the ongoing negotiations and his confidence level heading into the third vote.