Attorney General Sessions Testifies Before Senate Intelligence Committee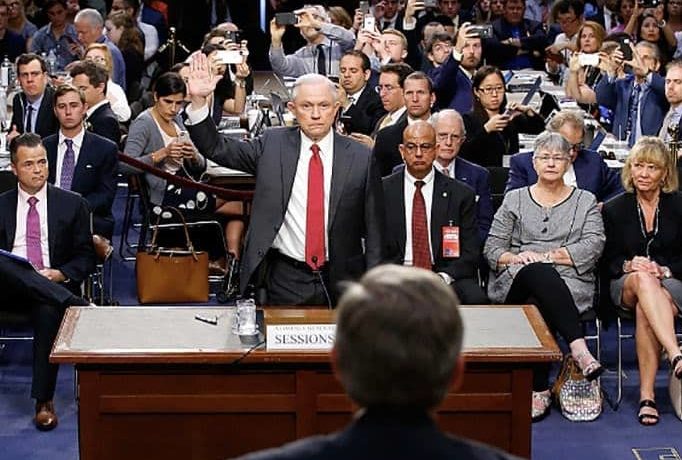 Attorney General Jeff Sessions testified in front of the senate intelligence committee today, following former FBI Director James Comey's testimony last week.
Comey testified that he believed sessions would recuse himself from the investigation into Russian intervention in the 2016 presidential election before he actually did, stating it was because of, "facts that I can't discuss in an open setting that would make his continued engagement in a Russia-related investigation problematic."
Sessions categorically denied meeting with any Russian officials regarding any election or campaign interference in his opening statement. Furthermore, he asserted that he had no knowledge of anyone else connected with President Trump's campaign having any conversation regarding interference with any Russian or foreign official.
These denials come after reports that Sessions and Russian Ambassador Sergey Kislyak had both attended an event at the Mayflower Hotel, though it is unclear whether or not Kislyak and Sessions actually had a meeting at the event. Sessions had testified during his confirmation hearing  that he had met with the Russian ambassador only twice during the course of the presidential campaign.
During today's testimony, Sessions claimed he could not recall a third meeting with Kislyak, nor could he recall whether Kislyak had met with Jared Kushner.
Democratic Senator Mark Warner refuted this statement, saying, "The fact is that you did indeed have interactions with Russian government officials during the course of the campaign".
Sessions directly contradicted parts of Comey's testimony, saying that he was not silent (as Comey claimed) when Comey expressed concern over meeting with President Trump. Sessions also claimed that any allegations accusing him of colluding with Russia were, "appalling and detestable lie."
Sessions also claimed that Comey was fired due to deficiencies, and refused to discuss President Trump's comments about Comey's firing being a result of the Russia investigation.
Notably, Sessions refused to answer questions regarding any conversations he had with President Trump, apparently in case the President wanted to claim executive privilege. Senator Martin Heinrich slammed Sessions for the decision, saying that, "My understanding to this, you took an oath…to tell the truth, the whole truth, and nothing but the truth, and now you're not telling the truth."
Democratic Senators were frustrated with Sessions throughout his testimony, due to perceptions that he was dodging questions. Senator Ron Ogden expressed that, "I believe the American people have had it with stonewalling. Americans don't want to hear that answers to relevant questions are privileged or off limits." Sessions expressed that he believed he was following the policies of the Department of Justice in refusing to recount conversations with the President.
Senator Warner warned Sessions that today's testimony was, "just the beginning of our interaction with you and our department."
Goldie Poll, Caracal Reports